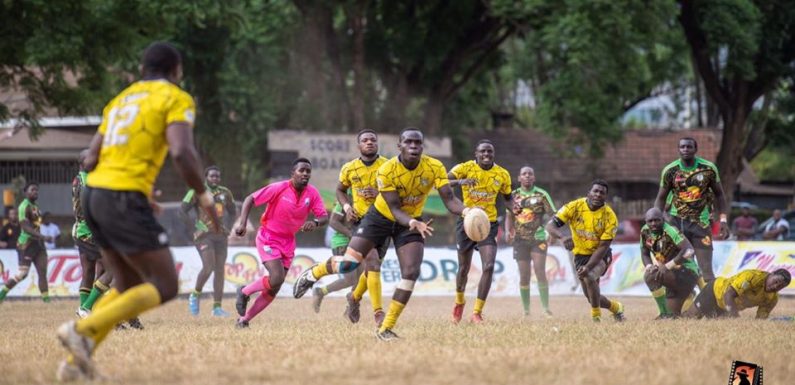 Menengai Oilers were trailing Stanbic Mwamba 5-7 at the breather to beat Kulbu 30-14 at the Moi Showgrounds in Nakuru.
The sensational Austin Sikutwa opened up the match with his first of two tries as he cut through Kulabu's defense in the first five minutes, the conversion that followed drifted wide. Oilers held on to the 5-0 lead for the better part of the first half despite Kulabu's consistency in attack. Just at the stroke of half time, Kulabu's efforts bore fruits as Ronnie Omondi stretched over landing a center post try. The successful conversion handed Mwamba the 7-5 half time lead.
Gibson Weru's half time talk rejuvenated his charges and when they got back on the field they registered 25 points to their name. Sikutwa drilled in two penalties, landed his second try and drilled in one successful penalty in the half while his counterparts Derrick Keyoga and Samuel Were landed a try each.
Stanbic Mwamba's flyhalf Elvis Namusasi skillfully sliced through Oilers defense in the last minutes of the match landing the last try of the match. Kenya Sevens International Daniel Taabu added the extras for a 30-14 full-time score.
"I'm happy we got the win and topped it off with a bonus point. The introduction of Ominde, Dalmus and Kwemoi was instrumental to us in the second half as they all played a huge role in securing the win. Sticking to our structures also helped us bag the win which is commendable especially after coming from a loss in the last fixture in 2019. As we prepare for the remaining fixtures of the season, we need to work on our defense especially when under pressure," said Head Coach Gibson Weru.
At the Nakuru Athletics Club, hosts Top Fry Nakuru suffered a 38-00 loss in the hands of log leaders Kabras Sugar RFC in the #RaiDerby while in Kakamega Nondies RFC beat Western Bulls 41-10 at the BullRing.
The three matches in Nairobi saw Resolution Impala Saracens, Blakblad RC, and Kisumu RFC lose their first matches of the year to Homeboyz RFC, KCB RC and Kenya Harlequins going down 22-32, 10-81 and 15-45 respectively.