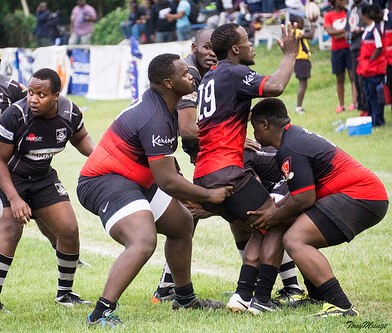 Resolution Impala Saracens survived a furious Mwamba rally, holding out for a 40-33 win in an entertaining match day 13 fixture at the Impala Club on Saturday 18 February.
This match had an interesting sequence of events, Mwamba, for all their huffing and puffing, falling behind to Mohamed Omolo's penalty but they soon responded, Collins Injera attacking the space, taking out Seje Owade in the process. Owade would be stretchered off concussed. David Dinda taking up his slot at inside center.
Edwin Machanje touching down off the ensuing breakdown with George Mutuku converting to put Mwamba 7-3 up.
Omolo would add a second penalty to bring the Sarries to within a point of their visitors before converting Sam Onsomu's try as the Sarries went 13-7 up.
Leon Adongo would capitalize on indecision from the Mwamba back three, pouncing on the loose ball, offloading to Omolo who touched down as for an 18-7 lead, the Sarries . Omolo would then convert Paul Mutsami's try as the hosts took a 25-7 lead into the break.
When Omolo converted Derek Mayar's opportunistic try, everyone, expect the 15 Mwamba players on the pitch knew the game was done and dusted…what with a 32-7 score in early  second-half.
Something happened to change the complexion of the game, a series of yellow cards to Tyson Okoth, Joel Omer and James Kubasu saw the Sarries down to 12 men, Mwamba seizing the opportunity to claw back, and claw back they did.
Machanje would barge over for his brace, Mutuku's conversion bringing the score to 32-14 before Injera landed the first of his two tries to bring the score to 32-19.
Mwamba continued to dominate possession, fuelled by Lavin Asego's distribution. Felix Otieno then exploited a gap in the Sarries backline, offloading to Asego who played in Injera  to race clear and score, Mutuku's conversion bringing the score to 32-26.
The Sarries were on the cosh but managed to stay afloat, Omolo's penalty seeing them go 35-26 up before Billy Odhiambo bamboozled David Dinda to score under the posts, Mutuku converting to make it 35-33, the game on a knife edge with precious little left on the clock.
Steve Juma's unconverted try off the rolling maul saw the hosts go 40-33 up, a leading that they were lucky to hold to the end, particularly after Mwamba's Marcus Muriithi spilled the ball agonizingly close of the try line.