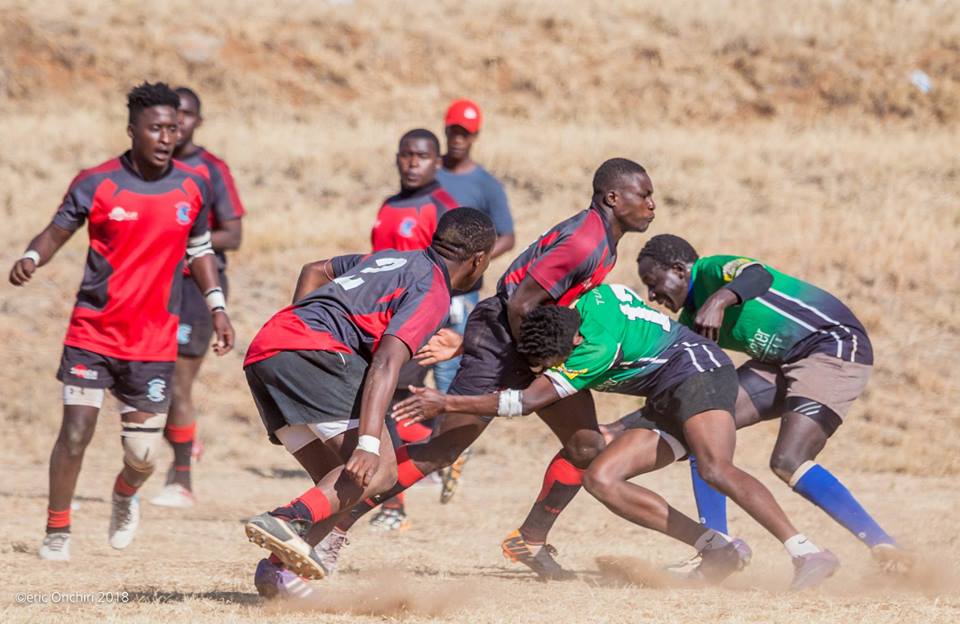 Daystar Falcons is leading the Nairobi Region University conference log after Match day two with a total of ten points coming off a walk over on the first day against CUEA II and an impressive 76-0 win over MMU on Match Day 2.
They are closely followed by Administration Police, Cooperative University and MKU Nairobi all who have won their first two matches. On the second match day, Administration Police beat Nazarene University 35-22, Cooperative University handed TUK a 3-21 loss while MKU Nairobi beat Catholic Monks 28-0.
NATIONWIDE NAIROBI UNIVERSITY
KCA University
5
v
55
Strathmore II
Nazarene
22
v
35
Administration Police
TUK
3
v
21
Cooperative University
Multimedia University
0
v
76
Daystar University
Catholic Monks II
0
v
28
MKU Nairobi
In the Clubs conference, Swara RFC tops the log with 69 points. They alongside Shamas Foundation and Hurricanes have won their two opening matches with Swara and Shamas securing both bonus points.
| | | | | |
| --- | --- | --- | --- | --- |
| NATIONWIDE NAIROBI CLUBS | | | | |
| | | | | |
| Stingers RFC | 0 | v | 24 | Huricanes |
| Comras | 0 | v | 56 | Vandals |
| Dagoretti bulldogs | 7 | v | 26 | Shamas Foundation |
| Stormers | 0 | v | 24 | Swara |
| Masaku RFC | 3 | v | 17 | Ngong RFC |
| | | | | | | | | | |
| --- | --- | --- | --- | --- | --- | --- | --- | --- | --- |
| Position | Team name | GP | W | D | L | GF | GA | GD | PTS |
| 1 | DAYSTAR FALCONS | 2 | 2 | 0 | 0 | 100 | 0 | 100 | 10 |
| 2 | ADMINISTRATION POLICE | 2 | 2 | 0 | 0 | 82 | 29 | 53 | 10 |
| 3 | COOPERATIVE UNIVERSITY | 2 | 2 | 0 | 0 | 60 | 8 | 52 | 9 |
| 4 | MKU NAIROBI | 2 | 2 | 0 | 0 | 44 | 12 | 32 | 8 |
| 5 | STRATHMORE II | 2 | 1 | 0 | 1 | 67 | 21 | 46 | 6 |
| 6 | AFRICAN NAZARENE | 2 | 1 | 0 | 1 | 33 | 45 | -12 | 4 |
| 7 | KCA UNIVERSITY | 2 | 0 | 0 | 2 | 15 | 66 | -51 | 1 |
| 8 | TECHNICAL UNI. OF KENYA | 2 | 0 | 0 | 2 | 10 | 68 | -58 | 0 |
| 9 | MULTIMEDIA UNIVERSITY | 2 | 0 | 0 | 2 | 5 | 115 | -110 | 0 |
| 10 | CATHOLIC MONKS II | 2 | 0 | 0 | 2 | 0 | 52 | -52 | -2 |
| | | | | | | | | | |
| | | | | | | | | | |
| | | | | | | | | | |
| | | | | | | | | | |
| | | | | | | | | | |
| Position | Team name | GP | W | D | L | GF | GA | GD | PTS |
| 1 | SWARA | 2 | 2 | 0 | 0 | 69 | 0 | 69 | 10 |
| 2 | SHAMAS FOUNDATION | 2 | 2 | 0 | 0 | 50 | 7 | 43 | 10 |
| 3 | HURRICANES | 2 | 2 | 0 | 0 | 37 | 8 | 29 | 9 |
| 4 | VANDALS | 2 | 1 | 0 | 1 | 66 | 14 | 52 | 6 |
| 5 | NGONG RFC | 2 | 1 | 0 | 1 | 25 | 16 | 9 | 5 |
| 6 | DAGORETTI BULLDOGS | 2 | 1 | 0 | 1 | 21 | 36 | -15 | 4 |
| 7 | STINGERS RFC | 2 | 1 | 0 | 1 | 30 | 29 | 1 | 3 |
| 8 | MASAKU RFC | 2 | 0 | 0 | 2 | 3 | 62 | -59 | 0 |
| 9 | COMRAS | 2 | 0 | 0 | 2 | 5 | 86 | -81 | 0 |
| 10 | STORMERS RFC | 2 | 0 | 0 | 2 | 0 | 48 | -48 | -4 |