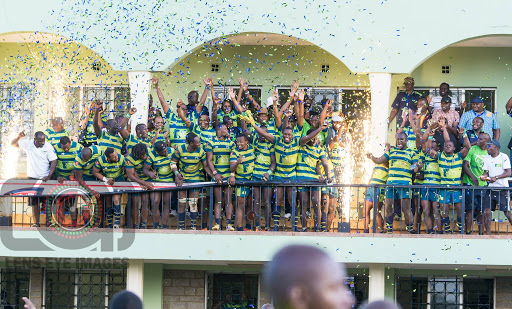 Under normal circumstances, the Kenyan league season would have now been concluded, and we would have been talking about the first Kenya Cup champions of the new decade.
With the COVID-19 pandemic having shelved those plans, albeit for now, we take a look at past Kenya Cup champions over the past few decades starting with the just concluded decade.
2010-2019
Impala were the defending champions heading into the new decade, having won the 2009 league title with a 13-5 final day win over Kenya Harlequin at the Impala Club.
Quins won the first title of this decade with a 26-21 victory over KCB in a thrilling final played at the RFUEA Ground on 17 April 2010.  This Quins squad would go on retain the title unbeaten in 2011 before winning the last of their titles to date in 2012.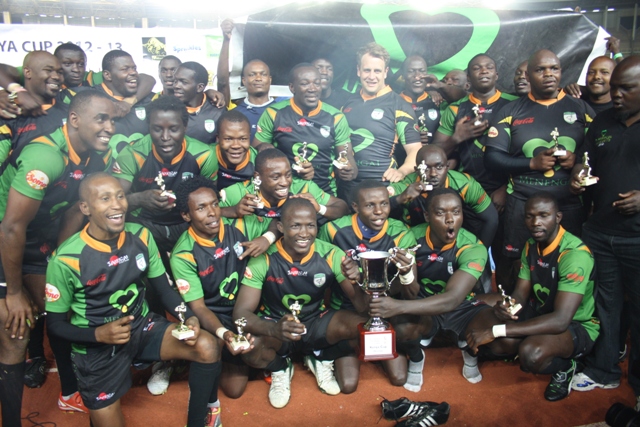 Nakuru, under the tutelage of the late Erick Situma, became the first team outside Nairobi to lift the title with victory in 2013, defeating Strathmore Leos 37-3 in the final at the Moi International Sports Center in Kasarani.  They successfully defended the title in 2014 with a 20-13 result over KCB at the RFUEA Ground.
KCB and newly promoted Kabras Sugar met in the 2015 final, KCB ending an eight year wait for Kenya Cup success with a 27-3 win at the RFUEA over the side from Kakamega who were making their maiden appearance in the Kenyan top tier.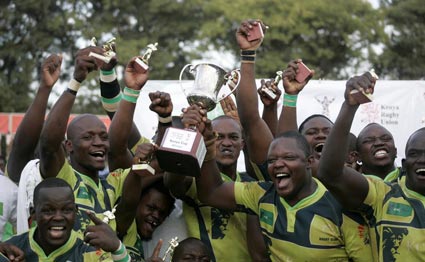 It was Kabras' turn to lay their hands on the title, lifting the Kenya Cup at just their second time of asking with a 22-5 victory over Impala in the 2016 final played at the Impala Club.
KCB and Kabras then met in the next three finals between 2017 and 2019, KCB victorious on each occasion, defeating their arch-nemesis from Kakamega 36-8 in the 2017 final at Ruaraka, 29-24 in the 2018 final at the same venue and 23-15 in the 2019 final in Kakamega.
Kenya Cup champions 2010-19
2010 Kenya Harlequin FC
2010/11 Kenya Harlequin FC
2011/12 Kenya Harlequin FC
2012/13 Nakuru RFC
2013/14 Nakuru RFC
2014/15 KCB
2015/16 Kabras Sugar
2016/17 KCB
2017/18 KCB
2018/19 KCB
*The 2010 season was abbreviated as KRU aligned itself to the global rugby calendar. The top four teams qualified for the semifinal playoffs.
*The 2010/11 and 2011/12 seasons were played on a home/away round robin basis. The team accumulating the most points at the close of the season was crowned the champion.
*The semifinal playoffs returned between the 2012/13 and 2014/15 seasons
*In 2016, the Top 6 playoffs were introduced and are still in place to date. Under this format, the top two teams at the close of the regular season earn direct home semifinals with the teams placed third to sixth facing off for a semifinal ticket.
*Prior to 2016, the Kenya Cup final was played at the RFUEA Ground. Currently, the highest ranked team gets to host the final