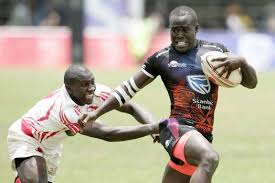 Action continues across the Kenya Cup, KRU Championship, Eric Shirley Shield and Nationwide leagues on Saturday 10 February 2018.
There are two potentially exciting matches on the cards, Stanbic Mwamba against Nondescripts at the Railway Club while Resolution Impala Saracens host Top Fry Nakuru at the Impala Club.
Menengai Cream Homeboyz will be looking to consolidate second place on the log as they host  Blak Blad at the Jamhuri Park as leaders KCB make the hop to Mombasa for the relatively straightforward encounter against hosts Regional Logistics Mombasa.
Kabras Sugar host giant killers Resolution Kisii at the Mamboleo Showground in Kisumu, this fixture the top bill of a triple header that also sees former Kenya Cup side Kisumu take on the University of Eldoret in the 2.00pm kickoff at the same venue.
Match Day 9
Saturday 10 February 2018
KENYA CUP
Stanbic Mwamba v Nondescript – Railway Club -4.00pm
Resolution Impala Saracens v Top Fry Nakuru – Impala Club -4.00pm
Regional Logistics Mombasa v KCB – Mombasa Sports Club – 4.00pm
Kabras Sugar v Resoluton Kisii – Mamboleo Showground, Kisumu – 4.00pm
Menengai Cream Homeboyz v Blak Blad – Jamhuri Park -4.00pm
SportPesa Quins v Strathmore Leos – RFUEA -4.00pm
KRU Championship
Catholic v South Coast Pirates – Catholic University – 4.00pm
USIU v Mean Machine – USIU – 4.00pm
Ngong v JKUAT – Kibiko – 4.00pm
Kisumu RFC v UoE – Mamboleo Showground – 2.00pm
Moi University v Western Bulls – Moi University – 4.00pm
Egerton Wasps v Menengai Oilers – Njoro – 4.00pm
Eric Shirley Shield
Stanbic Mwamba v Nondescript – Railway Club -2.00pm
Resolution Impala Saracens v Top Fry Nakuru – Impala Club -2.00pm
Regional Logistics Mombasa v KCB – Mombasa Sports Club – 2.00pm
Kabras Sugar v Resoluton Kisii – Mamboleo Showground, Kisumu – 12.00pm
Menengai Cream Homeboyz v Blak Blad – Jamhuri Park -2.00pm
SportPesa Quins v Strathmore Leos – RFUEA -2.00pm