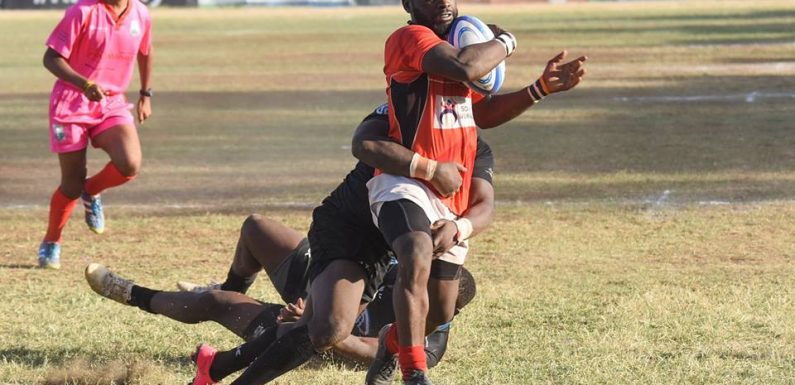 Stanbic Mwamba won their return leg over Resolution Impala Saracens, posting a 15-11 result at the Railway Club to keep their hopes of returning to the Kenya Cup playoffs very much alive. This result made amends for the 26-24 first leg loss to the same opponent at the Impala Club in November last year.
I Kulabu and Impala traded unsuccessful penalty attempts in the opening ten minutes before Brian Mwangi of Stanbic Mwamba drilled home a 22nd minute penalty giving his side a 3-0 lead. Thirteen minutes later, Impala landed the first try through Alvin Marube with the conversion sailing wide. Impala holding on to the 5-3 lead till the breather.
The second half was much more physical with both sides mirroring each other in attack and defense. Xavier Kipng'etich drilled in a penalty for the Sarries extending their lead to 8-3 over hosts before Martin Oyugi snuck in a try for Kulabu. The conversion that followed was unsuccessful, scores reading 8-8. A second penalty from Impala handed them the lead once more but it was soon watered down by Edwin "Pablo" Machanje's try that was off the scrum in Impala's 5M mark. The conversion that followed complemented Machanje's try giving Mwamba a four-point lead; 15-11.
Impala's made several attempts to break the defensive wall built by Mwamba but their efforts were unfruitful as Kevin Wambua's charges were relentless in this facet of the game. Mwamba eventually won the turnover and as they went knocking on Impala's try line once more, they were also met by what was an unbreakable wall. Stanbic Mwamba secured the win with the 15-11 scoreline over visiting Resolution Impala Saracens.
At the RFUEA Grounds, Kenya Harlequins also got one over their opponents Top Fry Nakuru with a convincing 33-12 win over the Wanyore. At the Lion's den. KCB completed the double over Oilers beating them 43-13.
The Kakamega derby saw guests Homeboyz RFC bag their 56-6 win over the Western Bulls in the early kick-off match that was followed by another massive win by Kabras RFC who beat Nondies 52-6. In Kisumu, hosts suffered a 5-38 loss in the hands of an impressive Blakblad RFC.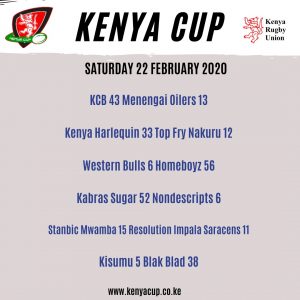 The win sees Stanbic Mwamba move one place up,(from sixth to fifth) on the log as Oilers who lost drop from fifth to sixth.