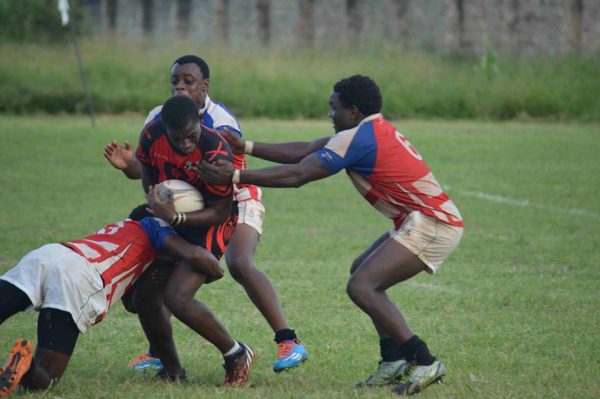 The fixtures for the 2018/19 second tier KRU Championship which kicks off on Saturday 17 November 2018 have been released. This season's competition retains its structure from last season where the 12 teams were grouped into two pools of six, each playing home and away fixtures within their pool and a crossover fixture against sides from the other pool before heading into the post season playoffs.
In the playoffs, the top two teams (Rank 1 and Rank 2) will have earned themselves a direct home semi final. Rank 3 to Rank 6 will face each other in the quarterfinals. Rank 3 v Rank 6 and Rank 4 v Rank 5.
Rank 1 will host the winner of Rank 3 v Rank 6 in the first semi final while Rank 2 hosts winner of Rank 4 v Rank 5 in the second semi final.
Match Day 1
Saturday 17 November 2018
Mombasa v USIU
Catholic Monks v Ngong
SC Pirates v Egerton
Resolution Kisii v Kisumu
Western Bulls v Kitale
Masinde Muliro v UoE
Match Day 2
Saturday 24 November 2018
SC Pirates v Resolution Kisii
Egerton v Western Bulls
Ngong v Kisumu
MMUST v Mombasa
Catholic Monks v UoE
Kitale v USIU
Match Day 3
Saturday 1 December 2018
Mombasa v Ngong
Catholic v SC Pirates
USIU v Egerton
Resolution Kisii v Kitale
Western Bulls v MMUST
Kisumu v UoE
Match Day 4
Saturday 8 December 2018
SC Pirates v Mombasa
Egerton  v Catholic Monks
Ngong v USIU
MMUST v Kisii
UoE v Western Bulls
Kitale v Kisumu
Match Day 5
Saturday 15 December 2018
Mombasa v Egerton
Catholic Monks v USIU
SC Pirates v Ngong
Resolution Kisii v UoE
Western Bulls v Kisumu
MMUST v Kitale
CHRISTMAS BREAK
Match Day 6
Saturday 12 January 2019
USIU v Mombasa
Ngong v Catholic Monks
Egerton v SC Pirates
Kisumu v Resolution Kisii
Kitale v Western Bulls
UoE v MMUST
Match Day 7
Saturday 19 January 2019
Mombasa v UoE
Catholic Monks v Kisumu
SC Pirates v Kitale
Resolution Kisii v Egerton
Western Bulls v USIU
MMUST v Ngong
Match Day 8
Saturday 26 January 2019
Mombasa v Catholic Monks
SC Pirates v USIU
Egerton v Ngong
Resolution Kisii v Western Bulls
MMUST v Kisumu
UoE v Kitale
Enterprise Cup First Round
Saturday 2 February 2019
Match Day 9
Saturday 9 February 2019
Egerton v Mombasa
USIU v Catholic Monks
Ngong v SC Pirates
UoE v Resolution Kisii
Kisumu v Western Bulls
Kitale v MMUST
Match Day 10
Saturday 16 February 2019
Mombasa v Western Bulls
Kisumu v SC Pirates
Egerton v Kitale
Resolution Kisii v Catholic Monks
MMUST v USIU
UoE v Ngong
Match Day 11
Saturday 23 February 2019
Catholic Monks v Mombasa
USIU v SC Pirates
Ngong v Egerton
Western Bulls v Resolution Kisii
Kisumu v MMUST
Kitale v UoE
Match Day 12
Saturday 2 March 2019
USIU v Resolution Kisii
Ngong v Western Bulls
Egerton v MMUST
Kisumu v Mombasa
Kitale v Catholic Monks
UoE v SC Pirates
Enterprise Cup Quarters
Saturday 9 March 2019
Match Day 13
Saturday 16 March 2019
Kitale v Mombasa
Catholic Monks v MMUST
USIU v UoE
Resolution Kisii v Ngong
Western Bulls v SC Pirates
Kisumu v Egerton
Match Day 14
Saturday 23 March 2019
Ngong v Mombasa
SC Pirates v Catholic Monks
Egerton vs USIU
Kitale v Resolution Kisii
MMUST v Western Bulls
UoE v Kisumu
Match Day 15
Saturday 30 March 2019
Mombasa v SC Pirates
Catholic Monks v Egerton
USIU v Ngong
Resolution Kisii v MMUST
Western Bulls v UoE
Kisumu v Kitale
Match Day 16
Saturday 6 April 2019
Mombasa v Kisii
Western Bulls v Catholic Monks
USIU v Kisumu
UoE v Egerton
SC Pirates v MMUST
Ngong v Kitale
Enterprise Cup Semis
Saturday 13 April 2019
Great Rift 10s
Saturday 20 April 2019
Championship Top 6 Playoffs
Saturday 27 April 2019
Championship Semis
Saturday 4 May 2019
Championship Final
Saturday 11 May 2019
Enterprise Cup Final
Saturday 18 May 2019