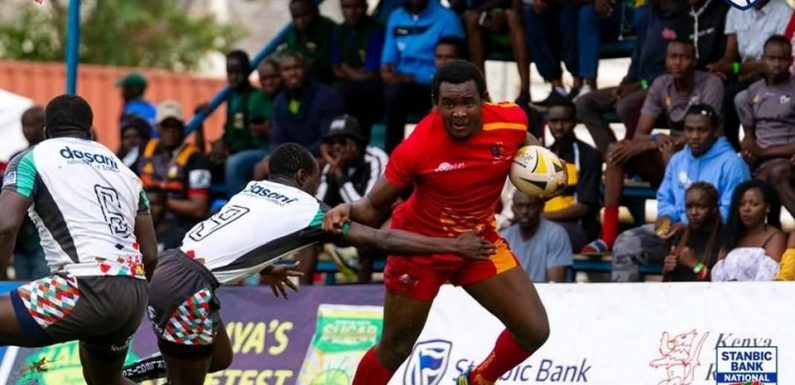 Strathmore Leos Bethuel Anami leads the try scoring charts in the second tier KRU Championship. The backrow has touched down 8 times this season.
Timothy Mmasi from Masinde Muliro University of Science and Technology (MMUST) and South Coast Pirates' Charles Tendwa are joint second with 6 tries apiece while eight other players are joint third on 5 tries each.
KRU Championship Top Try Scorers
8 Bethuel Anami (Strathmore Leos)
6 Timothy Mmasi (MMUST)
6 Charles Tendwa (South Coast Pirates)
5 Lucas Oppal (Strathmore Leos)
5 Caxton Aresi (Eldoret)
5 Victor Omupere (Catholic Monks)
5 Alex Maina (Strathmore Leos)
5 Walter Oteku (Strathmore Leos)
5 Felix Okumu (MMUST)
5 Clinton Khasai (Strathmore Leos)
5 Anthony Omondi (UoE Trojans)
4 Andrew Matoka (Strathmore Leos)
4 Wilson Juma (Northern Suburbs)
4 Sirneal Odinga (Eldoret)
4 Alton Mudaka (Northern Suburbs)
4 Fred Okoth (USIU Martials)
4 Claus Shirievo (MMUST)
Download the complete try scorers chart HERE
Mwanga leads Championship point scorers
The University of Eldoret's Dennis Mwanga leads the overall points scorers charts. He has scored 77 points coming off 1 try, 6 conversions and 20 penalties.
Strathmore Leos' Lucas Oppal is second on 63 points having managed 5 tries, 13 conversions and 4 penalties while MMUST's Tyson Juma is third, two points behind on 61 coming off 3 tries, 17 conversions and 4 penalties.
Festus Shiasi from Mean Machine and Andrew Matoka of the Strathmore Leos round off the top five on 56 and 45 points respectively.
KRU Championship Top Points Scorers
77 Dennis Mwanga (UoE Trojans)
63 Lucas Oppal (Strathmore Leos)
61 Tyson Juma (MMUST)
56 Festus Shiasi (Mean Machine)
45 Andrew Matoka (Strathmore Leos)
42 Wilson Juma (Northern Suburbs)
40 Sirneal Odinga (Eldoret)
40 Fidens Onyango (Northern Suburbs)
40 Bethuel Anami (Strathmore Leos)
Download the complete point scorers chart HERE