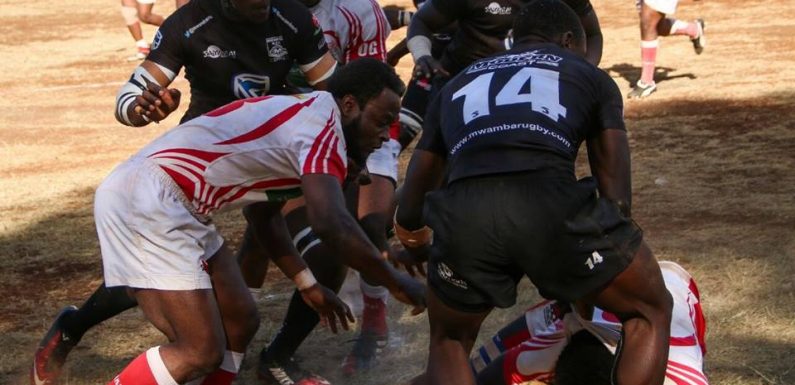 As we head into the Kenya Cup match day four, three teams are so far unbeaten. Kabras Sugar, Nondies and Resolution Impala Saracens have won their first three matches of the season. Kabras have a total of 15 points, followed by Nondies with 14 points and Impala are third with 13 points.
The these top three side will this weekend face the bottom three sides in the league: Mean Machine are 10th on the log, Stanbic Mwamba is eleventh with three points to their name while Strathmore sit at the bottom of the table with two points.
Kabras travels from Kakamega to play Strathmore Leos who are yet to register a win to their name. Kabras registered a big win last weekend as they beat Top Fry Nakuru RFC 50-8 at the Kakamega Showgrounds while Leos suffered a 9-16 loss to the Resolution Impala Saracens. Second Place Nondies RFC have a date with Stanbic Mwamba RFC. Nondies have had a 100% win record so far having beaten Homeboyz in the first weekend, they then ended the Defending Champions unbeaten run on week two at the KCB Ruaraka Sports Club and the third week saw them see off MenengaI Oilers with a 28-8 win. Mwamba have so far lost to Harlequins, Homeboyz and KCB and will be looking to bag their first win this weekend at the Jamhuri Showgrounds.
Impala Saracens will face Mean Machine at the RFUEA Grounds on Saturday at 2:00pm. Machine have so far registered one win, 23-10 against Strathmore Leos on the second of Kenya Cup and have suffered two losses to Kabras and Blakblad. Impala on the other hand have beaten Blakblad, Nakuru and Strathmore in that order. This match will be aired live on Bamba Sports.
The mid table clash sees fourth placed KCB play fifth place Kenya Harlequins, both sides have two wins and a loss each to their name which brings their total points to eleven. Kenyatta University are ranked sixth with six points and they travel to Nakuru for their clash with the Top Fry Nakuru RFC who sit in the eighth on the log with five points.
Menengai Oilers will host The Menengai Cream Homeboyz at the ASK Showgrounds Nakuru. The two are separated by a point each, Homeboyz have five points while Oilers sit at the ninth position with four. Both teams have a win each, Homeboyz beating Mwamba 22-18 while Oilers beating Quins 14-8 during the second week of the Kenya Cup.
8th December Fixtures
Machine vs Impala – RFUEA Grounds 2:00pm(Live on Bamba Sports)
Harlequins vs KCB – RFUEA Grounds 4:00pm(Live on Bamba Sports)
Menengai Oilers vs Homeboyz – ASK Nakuru 4:00pm
Strathmore vs Kabras – Madaraka 4:00pm
Nakuru vs Blakblad – NAC 4:00pm
Stanbic Mwamba vs Nondies – Jamhuri 4:00pm
Photo courtesy of Mwamba RFC