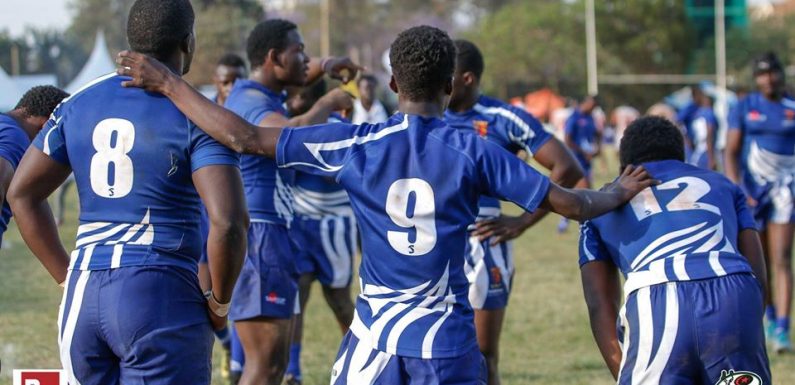 Strathmore Leos and Masinde Muliro maintained their massive leads in the KRU Championship, staying on course for home semifinal qualification when the regular season draws to a close later in the season. The Leos will close out the calendar year perched atop the standings. They have won all nine of their fixtures to date and have 43 points, eight more than second placed Masinde Muliro (MMUST) who are on 35 points.
Mean Machine are placed third on 26 points while Eldoret and Northern Suburbs are placed fourth and fifth respectively, tied on 20 points.
Egerton Wasps occupy sixth place on 18 points with USIU Martials, Catholic Monks and South Coast Pirates all tied on 17 points.
University of Eldoret sit tenth on 15 points while Mombasa and Kisii occupy the bottom two slots.
KRU CHAMPIONSHIP
| | | | | | | | | | |
| --- | --- | --- | --- | --- | --- | --- | --- | --- | --- |
| Position | Team name | P | W | D | L | PA | PA | PD | PTS |
| 1 | STRATHMORE LEOS | 9 | 9 | 0 | 0 | 309 | 73 | 236 | 43 |
| 2 | MASINDE MULIRO UNI. | 9 | 8 | 0 | 1 | 206 | 79 | 127 | 35 |
| 3 | MEAN MACHINE | 8 | 5 | 0 | 3 | 188 | 87 | 101 | 26 |
| 4 | ELDORET RFC | 8 | 4 | 0 | 4 | 143 | 146 | -3 | 20 |
| 5 | NORTHERN SUBURBS | 9 | 4 | 0 | 5 | 158 | 165 | -7 | 20 |
| 6 | EGERTON WASPS | 8 | 3 | 1 | 4 | 105 | 100 | 5 | 18 |
| 7 | USIU | 8 | 3 | 1 | 4 | 117 | 136 | -19 | 17 |
| 8 | CATHOLIC UNI. | 9 | 3 | 0 | 6 | 142 | 172 | -30 | 17 |
| 9 | SOUTH COAST PIRATES | 9 | 4 | 0 | 5 | 124 | 227 | -103 | 17 |
| 10 | UNIVERSITY OF ELDORET | 9 | 3 | 0 | 6 | 118 | 186 | -68 | 15 |
| 11 | MOMBASA SC | 7 | 2 | 0 | 5 | 60 | 172 | -112 | 8 |
| 12 | KISII RFC | 9 | 2 | 0 | 7 | 52 | 179 | -127 | 3 |