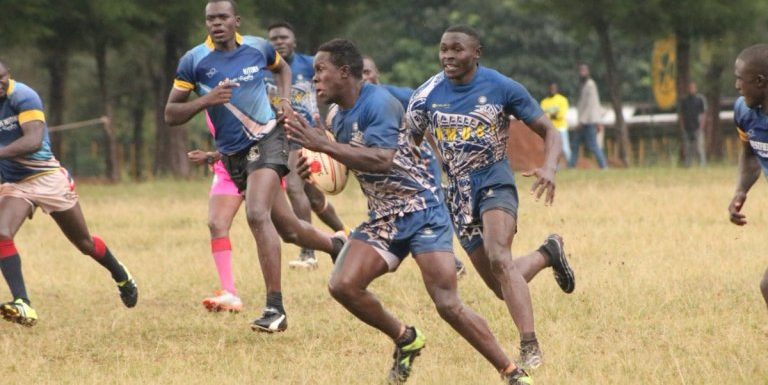 Second-placed Masinde Muliro University of Science and Technology were the biggest winners in the KRU Championship as they registered a staggering 41 points across the Egerton Wasps without conceding a single point.
The gap between them and first placed Strathmore has however reduced to seven points as the Leos were unable to claim their bonus point in their 0-22 win over the Northern Suburbs at the Catholic University Grounds. The Louis Kisia charges were held to a tight 0-5 half time score before Lucas Oppal drilled in a penalty extending his side's lead to 0-8 despite the defensive wall put up by the Suburbs. Leos unrelenting spirit saw them land two quick converted tries in the last seven minutes of the match walking away with the 0-22 win.
The second Championship match on this venue saw the Catholic Monks beat Mombasa RFC 32-15. Monks ran in five tries in the first half, two of which were converted successfully while Mombasa RFC only managed to drill in one penalty in this half. Tables turned in the second half, Monks were now defending while Mombasa was attacking and they managed to convert this into twelve points. However, time was not on their side as Monks got a penalty, extending their lead to 32-15 before the referee called it full time.
The Kenya Rugby Union Chairman, Oduor Gangla attended this doubleheader and here's what he had to say about the two matches and the Championship league as a whole.
"The Northern Suburbs vs Strathmore Leos scoreline doesn't reflect the intensity of the match. Strathmore maximized their opportunities, unlike the Suburbs who created a lot of chances but unfortunately, they were unable to convert them to points. in the second match, Mombasa performed much better in the second half but was unlucky as Monks had already scored so many points in the first half,"
Kisii stunned the University of Eldoret beating them 11-3, USIU narrowly edged Eldoret RFC 13-15 while Mean Machine beat the South Coast Pirates 43-18.
Mr. Gangla also commended the young referees who officiated the two matches at the Catholic University saying it's extremely commendable to see such upcoming match officials handling these matches very well.
"The Championship league is clearly becoming more and more competitive and during the offseason, we might look at ways of making it more exciting. Looking at the log, the gap between the fourth and the ninth-placed teams is seven points. This shows that all teams are working very hard and the crowd at this venue was a reminder that if and when clubs work together to have doubleheaders, then more fans will attend the matches." he concluded.
Collated #KRUChampionship match day 12 results pic.twitter.com/Dwp8ES1Quj

— Kenya Cup (@TheKenyaCup) January 25, 2020