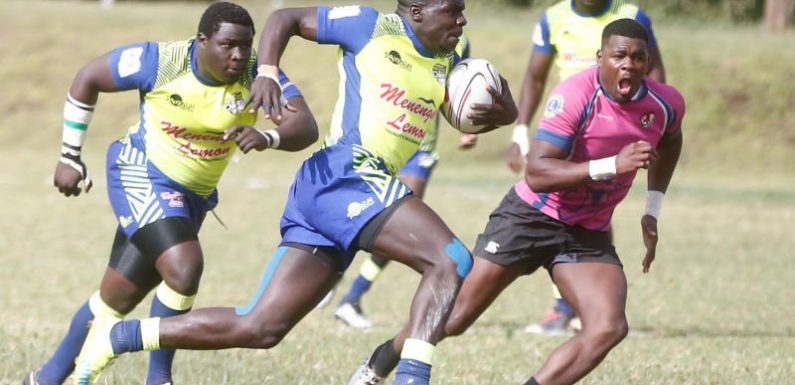 Menengai Oilers' Timothy Okwemba leads the points and try scoring charts after Kenya Cup match day three. Okwemba has 20 points off a league leading 4 tries.
Kenya Harlequin flyhalf Evin Asena is a point behind, his 19 points coming off 5 penalties and 3 conversions while Oilers' Abutali Wesonga is on 13 points, having managed 2 penalties and 3 conversions.
Top Fry Nakuru's Samuel Mwaura and Blak Blad's Arcadius Khwesa are both tied on 11 points, each having managed 1 conversion and 3 penalties.
Martin Owila, Michael Wanjala (KCB), Joshua Chisanga, Brian Waraba (Kenya Harlequin) and Steven Arunga ( Menengai Oilers) all have 10 points off 2 tries. They are joined by Kelvin Gathu (Blak Blad) who has managed 1 try, 1 penalty and 1 conversion and Ntabeni Dukasa of Kabras Sugar who has managed 5 conversions.
Top Try Scorers
4 Timothy Okwemba (Menengai Oilers)
2 Martin Owila (KCB)
2 Michael Wanjala (KCB)
2 Joshua Chisanga (Kenya Harlequin)
2 Brian Waraba (Kenya Harlequin)
2 Steve Arunga (Menengai Oilers)
Top Points Scorers
20 Timothy Okwemba (Menengai Oilers)
19 Evin Asena (Kenya Harlequin)
13 Abutali Wesonga (Menengai Oilers)
11 Samuel Mwaura (Top Fry Nakuru)
11 Arcadius Khwesa (Blak Blad)
10 Martin Owila (KCB)
10 Michael Wanjala (KCB)
10 Joshua Chisanga (Kenya Harlequin)
10 Brian Waraba (Kenya Harlequin)
10 Steve Arunga (Menengai Oilers)
10 Kelvin Gathu (Blak Blad)
10 Ntabeni Dukasa (Kabras Sugar)
View the complete  points scorers list here https://www.kenyacup.co.ke/download/kenya-cup-points-scorers-13-march-2021/
View the complete try scorers list here https://www.kenyacup.co.ke/download/kenya-cup-try-scorers-13-march-2021/