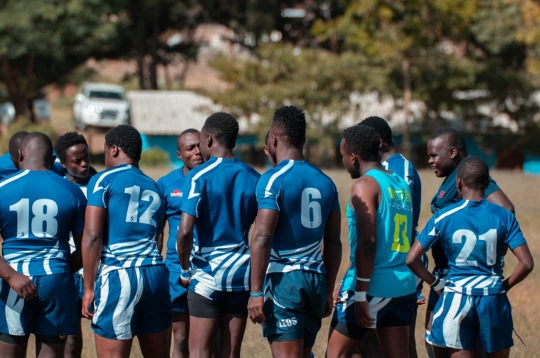 Strathmore Leos and Masinde Muliro University of Science and Technology (MMUST) stayed unbeaten and top of the second tier KRU Championship after match day three fixtures on Saturday 9 November 2019.
The Leos 40-10 crushing of the Catholic Monks was their third win on the trot, taking them to 14 points, one clear of second placed MMUST who were too strong for former Kenya Cup side Eldoret, defeating them 38-0 in Kakamega.
The University of Eldoret's unbeaten run was ended in Njoro following a 21-15 loss to hosts Egerton Wasps. Despite the defeat, the Trojans stayed third on the log with 9 points, same as fourth placed South Coast Pirates who obliterated 1997 Enterprise Cup champions Mombasa 36-3 in the Pwani Derby on Saturday.
Mean Machine, Kenya Cup champions in 1977, 1989 and 1990 rose to fifth place on the log with their first win of the season, a 36-3 result over Northern Suburbs. Machine are on 7 points after three matches thus far.
USIU Martials and Catholic Monks are tied on 6 points but it is the Martials in sixth position as a result of their superior points difference.
Egerton's win over UoE lifted them off the league basement, they are currently placed eighth with the Suburbs and Eldoret in positions nine and ten respectively.
Mombasa are second from bottom while Kisii's no-show against USIU sees them sit at the bottom of the log after match day three.
| | | | | | | | | | |
| --- | --- | --- | --- | --- | --- | --- | --- | --- | --- |
| | Team name | GP | W | D | L | GF | GA | GD | PTS |
| 1 | STRATHMORE LEOS | 3 | 3 | 0 | 0 | 89 | 33 | 56 | 14 |
| 2 | MASINDE MULIRU UNI. | 3 | 3 | 0 | 0 | 71 | 14 | 57 | 13 |
| 3 | UNIVERSITY OF ELDORET | 3 | 2 | 0 | 1 | 48 | 30 | 18 | 9 |
| 4 | SOUTH COAST PIRATES | 3 | 2 | 0 | 1 | 64 | 50 | 14 | 9 |
| 5 | MEAN MACHINE | 3 | 1 | 0 | 2 | 69 | 38 | 31 | 7 |
| 6 | USIU | 3 | 1 | 0 | 2 | 44 | 33 | 11 | 6 |
| 7 | CATHOLIC UNI. | 3 | 1 | 0 | 2 | 45 | 60 | -15 | 6 |
| 8 | EGERTON WASPS | 3 | 1 | 0 | 2 | 37 | 50 | -13 | 5 |
| 9 | NORTHERN SUBURBS | 3 | 1 | 0 | 2 | 43 | 75 | -32 | 5 |
| 10 | ELDORET RFC | 3 | 1 | 0 | 2 | 24 | 62 | -38 | 5 |
| 11 | MOMBASA SC | 3 | 1 | 0 | 2 | 20 | 74 | -54 | 4 |
| 12 | KISII RFC | 3 | 1 | 0 | 2 | 20 | 55 | -35 | 2 |