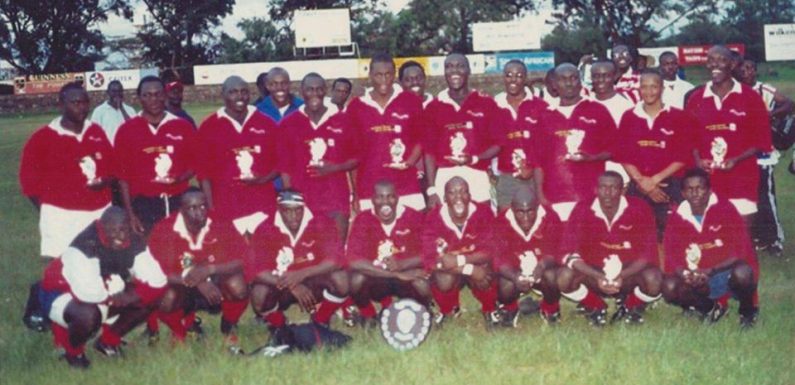 Impala, coached by Bill Githinji, were the first Kenya Cup winners of the new millennium, ending a 26 year wait with a 29-25 victory over defending champions Kenya Harlequin in the 2000 final at the RFUEA. The atmosphere in the stands on that day was electric. 
The two sides had met in the 1999 final, Quins closing out the 90s with victory.
Benjamin Ayimba, David Matasio, Oduor Gangla, Philip Mwenesi, Samson Odhiambo, Zeddy Akwanyi,Allan Wamanga,Wilson Kouko, Erick Situma (R.I.P), Arnold Orege, Victor Sudi,  Aaron Sariyo,  Oscar Osir,  Bill Odongo, Mitch Ocholla, Tony Ongoro, Frank Ndong, Michael Okech, Vincent Makanga, Stephen Obondy, Fred Ollows, Charles Ngovi to name but a few all featured for this side.
Impala went on retain the title in 2001, again beating Quins in that year's final  before completing their three-peat with a 14-3 win over  Michael "Tank" Otieno's KCB in the 2002 final.
Kenya Harlequin and Impala contested the 2003 Kenya Cup final. This was the fourth time in five seasons that the next door neighbors were meeting in the final, Quins ,featuring a young and exciting front row of Joel Ng'ang'a,Vincent Ongera and  Daniel Kiptoo as well as the likes of Tito Oduk, Peter Abuoga, Roger Akena,Edward Kinyany,Felix Ochieng, Moses Gesami, Jude Thumbi, Fervent Thumbi among others running off with the title courtesy of the experienced Sammy Khakame's drop goal for a 16-13 win over Impala.
Impala were again competing for the 2004 title, playing in their sixth consecutive final since 1999. Their opponents, KCB, third in 2003 lay in wait.
ALSO READ: Kenya Cup champions 2010-2019
This match was fiercely contested over 80 minutes,it could have gone either way but at the end it was Impala winning their fourth title of the decade with a 21-17 win over KCB in what was an energy sapping game of rugby.
In 2005, the Kenya Cup reverted to a league format – matches played on a home and away basis and it was KCB , inspired by the likes of Peter Mutai, Kevin Mahebo, Derrick Wamalwa, Leslie Mango, Arthur Shikwe, Anthony Ogot, Edwin Alubaka, Richard Kinyanyi, Anthony Ochino (R.I.P), Frank Amiani (R.I.P) to name but a few were  champions that season, winning their maiden title. This squad successfully defended the title in 2006 and 2007 – the second three-peat of the decade.
Quins then won the 2008 league title before Impala closed out the decade with victory in 2009. The 2009 season was particularly interesting as Impala, Quins and KCB were all in with a chance of winning the title heading into the last round of action.
Impala needed a win in their last match which incidentally was against Quins. They also needed KCB to either lose or fail to register a bonus point win in their last fixture against Nakuru. Quins on the other hand needed victory at Impala while counting on Nakuru to beat KCB.
This is how it played out on closing day…Impala edged Quins 13-5 at the Impala Club, KCB could only manage a 14-7 win over Nakuru in Nakuru. The Kenya Cup trophy had returned to the Impala Club for the fifth time  in this decade.
Kenya Cup Winners 2000-2009
2000 Impala
2001 Impala
2002 Impala
2003 Kenya Harlequin
2004 Impala
2005 KCB
2006 KCB
2007 KCB
2008 Kenya Harlequin
2009 Impala
*The Kenya Cup was played as a round robin league from 2005 to 2009. Prior to that, the previous format saw the top four teams qualify for the semifinal playoffs and eventually, the final.